🐕️ Guess the puppy weight and win 50 Gold Bars! (finished)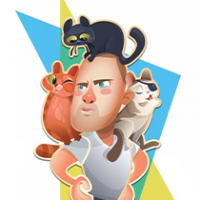 Crazy Cat Lad
Posts: 14,138
Community Manager
How much does the puppy weigh?
We know how many kilos he weighs together with the kitty and bunny, but can you figure out his own weight?
Take a closer look at the numbers and you will surely figure it out. Or take a wild guess and win!
We'll pick three winners among all correct answers that will win 50 Gold Bars.
You can comment and guess as often as you like, but your last answer counts only.
A tip is that the puppy weighs most of all three!
Don't miss in Community!
🐈️ How do you feel about the new pets? Vote and comment to give us feedback HERE.
📱 What's your Pet Rescue game view? Share your pic HERE!
You have until Wednesday 31 August 2022, 03:00 EST/ 09:00 CET to participate. You'll find all terms and conditions here.
😺 New to the Community? Register HERE in just 2 seconds.
This discussion has been closed.