📦️
Grow a Pet!
Give us feedback on the new event
HERE!
📱
What's your Pet Rescue game view?
Share your pic and claim a badge
HERE!
🐕️
Puppy Challenge!
50 Gold Bars to win
HERE!
📱 What's your Pet Rescue game view?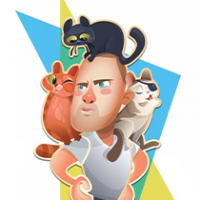 Crazy Cat Lad
Posts: 14,137
Community Manager
We all have our favourite place to play our favourite game!
A place where we disconnect and relax to rescue the pets.
What's your favourite place? Home in the sofa? Comfy chair in a coffee shop? On the bus or train on your way somewhere?
Share your game view by...
Switching from the game to your camera for one second.
Take a pic of your view.
Post your game view pic here on the thread so we all can see where you play Pet Rescue Saga!
Then claim your Pet Game View badge:
😺 ​New to the Community? Register HERE in just 2 seconds.