📦️
1, 2, 3, Grow!
New feature and event. Find more info
HERE!
🐕️ Pet Rescue Game Team wants your feedback - Unlimited Lives!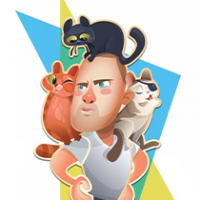 Crazy Cat Lad
Posts: 12,511
Community Manager
👨‍👩‍👦‍👦 New to the Community? Register here in just 2 seconds.
📱 Play Pet Rescue Saga HERE.
Unlimited Lives!
We're sure all players love the Unlimited Lives that you can win in Weather Alert, Mystery Mountain, Panda Party and many other challenges and events in the game.
24 hours of Unlimited Lives allows you to play all day long or even all night long, but when you win one or two hours. What is your normal strategy and behaviour then?
Do you always stay in the game to make sure you can use the Unlimited Lives?
Or do you have many friends sending you Lives so the Unlimited Lives doesn't matter?
Would you like to pause the timer and use the Unlimited Lives later?
Do you like winning Unlimited Lives or would you prefer Boosters only?
Let us know all your feedback, thoughts and suggestions on the Unlimited Lives in the game!
Don't forget to vote on YOUR favourite reward in the game HERE!