Walter's Workshop 2.0 (finished)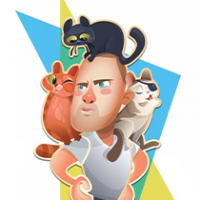 Walter has prepared a new Workshop for you. It's a tricky one, but if you know your cards and cats, you'll figure it out.
Here's three rows with different sets of cards, but the last set of cards is missing. Can you guess or see which cards are missing there?
Which of these options and cards below do you think it is?
Post the letter of the cards that you think is the last set on the table above and get the chance to win Gold Bars to any of the King games here in Community.
Five random players who posted the right answer will win 15 Gold Bars each to the game of your choice!
If you choose Shuffle Cats as the game, you will also win 10 000 Gems as a bonus on top of the 15 Gold Bars.
Good luck, cats!
You have until Friday 8 May 2020 09:00 CET to participate and the Terms and Conditions are right here.
Do not have a Community account yet? 
Then sign up right here to participate!  
💚 Want to play Shuffle Cats? Download it from your app store here.
Comments
This discussion has been closed.