🎨 New in the Hub: The Art Nook!
Share your King Fanart!
☀️ Introducing the King Accessibility Heroes! Check it out
HERE
🌶 News & Hot topics
HERE
! // 🎀 Discover all King games
HERE
!
Have you been demoted to a lower Level in the Community? Find out why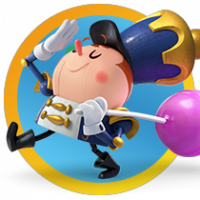 Pounawea
Posts: 3,734
Community Manager
Dear community members,
We have a very exciting announcement to make!
Today we are starting a new "Roadmap to become a King Community Legend" program! 🤩 🥳
Please note: due to these changes, we will be adjusting the points system in the forums and some of you might be putting some points aside.
Help us spread the word throughout the community so everybody is aware of these changes.
So, heads up everyone! Have you been demoted to a lower level in the Community? Were you perhaps Level 4 and now in your profile you see that you are Level 3?
If so, this is the reason why. 🙂
We are really excited about the new Road to become a King Community Legend! Find all the information HERE.

Thank you all very much in advance for your understanding and let's embark together in this new & exciting journey!
Have a delicious day and see you around the forums. 🍬 🍬
👨‍👩‍👦‍👦   New to the Community? Sign up HERE in 2 seconds!
This discussion has been closed.