🎨 New in the Hub: The Art Nook!
Share your King Fanart!
☀️ Introducing the King Accessibility Heroes! Check it out
HERE
🌶 News & Hot topics
HERE
! // 🎀 Discover all King games
HERE
!
Member of the Month- March 2021: MountainMom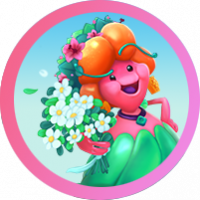 Lola_Pop
Posts: 7,191
Community Manager
👨‍👩‍👦‍👦 New to the Community? Register here in just 2 seconds.
For the past month of March, our Community Managers and Game Mods have decided the Member of the Month is...
@MountainMom !!
🌲

🌳

Congratulations!🌲🌳



Our @MountainMom deserves this honor for her helpfulness and positive attitude, engaging with all players and always there for them, encouraging them to have fun!

Hers is Member of the Month badge, a permanent entry in the Community Hall of Fame and 200 Gold Bars for your favorite games.

And now let's pass the mic to our new Member of the Month 🎤




💫 Which of King's games are you currently playing and what do you like about them? Which one is your fav?

I play Candy Crush Saga, Candy Crush Soda Saga, Candy Crush Friends Saga, Farm Heroes Saga, Pet Rescue Saga almost every day. I also play Bubble Witch 3 and Diamond Digger, but less frequently. I don't have just one favorite, but Candy Crush Saga is my sentimental favorite because I have played it the longest. I like the unique features of other games, especially Farm Heroes and Pet Rescue and BW3, because they are so different from just crushing candies.

💫What's your best memory with King games? And on the Community?

My best memory occurred recently. I am a member of an incredible team in CCFS that completed nearly 12 full levels of Dachs Delivery -- it was great fun playing with such talented and enthusiastic players!

In the community, I had the pleasure of being a Game Expert in FHS for several months. I got to meet (virtually) some great members (too many to list), to learn new things, and share my experiences.

💫Do you have any expectations from the Community?

I expect the Community to continue to be a learning and supportive environment for all members and to provide a friendly forum for having fun, earning badges, and winning gold bars. I also expect the Community to continue to expand the International area to include more language options.

💫What do you like the most about our Community?

The people, for sure! The Community has a very diverse membership -- friendly, funny, competitive, supportive and sometimes opinionated people.

💫If you could change anything about King (games, community, etc), what would it be?

I would like to see more opportunities to win gold bars in the games.

💫How did you find the Community?

I was struggling to win a level or understand what was causing a glitch in my device, so I went to the Community for help. I not only got the answer to my question, I learned much more! Now, I stay engaged to continue learning about the games, to participate in special events and contests, and to share my experience with others.

💫 Anything else you'd like to share?

THANK YOU to the people behind the scenes -- in the Studio and in this Community. I have great respect for the Community Managers and the Game Moderators -- it is obvious to me how hard they work to ensure the rest of us have fun, stay engaged, and share.




And we thank YOU, dear @MountainMom , for being yourself and letting us share our time in the planet with you!



Guys, let's show our Member of the Month how much we care!
👇️

Want to PLAY more?
Leave a Comment