🔮 Collect your Level Badge 🔮
HERE
✨
🎟️ Join the Bubble Witch 3 Magic Millionaire club and get a Badge 👉
HERE
🔮WIN!! Bubble Witch Community Springtime Celebration Contest🔮 (finished)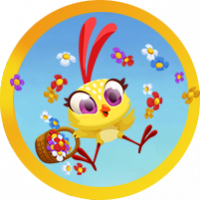 Lady_Choo
Posts: 14,378
Farm Moderator
BW3 Want to participate? Sign up here in 2 seconds!
Welcome to the Community Springtime Celebration Contest! This is one of seven games that are part of a community wide contest event. 
Stella is getting ready to join the rest of the kingdom in the springtime celebration.
Sadly she had a sneezing fit at the worst possible time! All the letters for her part of the contest have bounced into the wrong bubbles.
Can you help her put them in the right order?
Once you have worked out the word post it underneath but please use the spoiler feature so that other players can figure it out themselves.
5 random players will win 20 gold bars each in Bubble witch 3 only. So if you do not play this, please mention it when posting your answer. It cannot be transferred to another game.
But that's not all!
Once you have all seven words, go to the Community Hub HERE and write the words in the proper spots to reveal the special message. Everyone who participates and posts their answer in the Community Hub will win this special badge and 3 very lucky people will win 50 Gold Bars in a game of their choice! 
Contest runs until 1500 CET 9 April 2021 
Terms and Conditions here


☕ Keep safe...Keep social distancing. I don't like people anyway  😉☕
🐥Life's not about counting chickens. Unless they all escape their coop of course! 🐤
New contest! 🍏 Win a badge and a chance to win gold! 🍏

Farm heroes addict collecting cropsies since 2013. 
Leave a Comment