Due to an issue with our servers, on the 5th of July
all Private Messages will be deleted and disabled.
Read more
HERE
🔮ENDED Activate Eri the Cat & Win Gold bars & Badges ENDED😍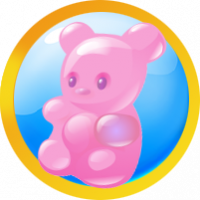 PrettyBubbles
Posts: 10,531
Bubble Witch Moderator
Hi Witches 🧙‍♀️and Wizards🧙‍♂️
We all love our star cats, so I have a star cat badge collection on its way to you. Whoop whoop, guys😀 this will be a lovely collection to have all 4 on your wall.
I hope you like the idea💓
You have 4 in total to collect 👇
Here is the first one and how it works!
Eri loves to help out by filling your orb, so let us make him happy
When you see Eri is available, activate him by using the 50 stardust tab, then you can play any level of your choice.
You must post a screenshot of your chosen level before you begin to play, showing your orb is full.
Please select here to see the example of your first screenshot before you commence play
Then post the level completed screenshot.
All of you who achieve this a minimum of 5 times will receive this limited edition "I love you" Eri badge:
What's for grabs?
6 of you will also be randomly chosen to receive 20 gold bars each plus 3 magic beams.
Don't worry if Eri times out before you can complete five entries, as you have two weeks, so he will be around again once he has let his kitty friends 🐈 take a turn at helping you 💓
The contest will close on Thursday the 19th of may
Good luck and have fun 😀💓
🔮 Want to participate, but have no account, then register here in 2 minutes 😉
Leave a Comment