🎉 Level 6000 Celebration 🎉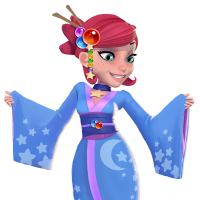 Hi Witches and Wizards, I have such good news.
Level 6000 is finally out and we all get this unique chance to celebrate this amazing magical milestone 🥳🎉
🔮 How to play?
You have 4 days starting today, to complete 5 levels, with the last level being level 6000 and you must complete the first 4 levels to access level 6000.
Once you have completed the special level, you will be rewarded with a chest full of rewards 🎁
Are you having fun participating in the event? Let us know by commenting below 👇
But wait, there is more...
If you mastered level 6000, then you have the right to collect this Exclusive Level 6000 badge Here
📡 Note! Not everybody has access to this feature as this is still being tested so only a group of players will have it. Don't worry, if you don't have it this time you will get a chance to test this in the future as long as you always make sure your game is up to date!
 🔮 No account yet? Sign up HERE in 2 seconds! 🔮
Comments