(Finished) Let's celebrate Pride with BW3 🌈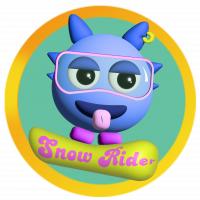 Happy Pride Month, witches and wizards! 🌈
June is a joyful celebration of liberty, diversity, and inclusion! Let's join this festivity together with Stella and her Star Cats! Each Star Cat represents the following powers and values:
Eri represents tolerance. Eri has the power of the Orb. When activated, she fills up Nero's Orb a little for you at the beginning of the level, so fewer Bubbles are needed to power up the Orb.
Leo represents support. Leo has the power of Points. Activate him to release 3 stars onto the game board that will automatically give you the required points for 1, 2 and 3 star score.
Lyra represents freedom. She has the power of the Fairies. When she is activated, more Fairies are released onto the board.
Puck represents inclusion. He has the power of Arcane. Once you activate him, he adds a number of Arcane Bubbles onto the board to lend a helping hand.
Share the Star Cat that resonates most with you and claim this lovely badge!
 Also, on June 30 we will pick 3 random winners who will win 50 Gold Bars each in Bubble Witch 3 Saga.
Find Terms and Conditions here
This contest is running until 23:59 CEST on the 29th of June.
Comments