🏅Badges! Join the Weekly Race
HERE
and share your scrapbook
HERE
🍩 Friends Battle Royale! Vote now
HERE
🌈New in the Community? Say Hi
HERE
🦝 Rachel's back in town! Tell the studio what you think
HERE
💰 Guess which is our sweet raccoon's art style and win Gold
HERE
🌴 It's ON! Join our
Weekend Challenge HERE

Kimmy searches Google to learn about May Day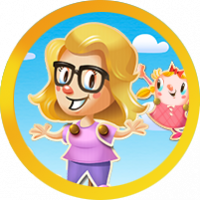 Elsa
Posts: 31,378
Sweet Legend
Kimmy has been sitting at home in Soda World bored out of her mind with this crazy virus. She decides to look on Google for some beautiful flowers that she can plant outdoors. She comes across an article talking about May Day. 
"May Day has its roots in ancient pagan festivals marking the beginning of summer. (For that reason, it's primarily celebrated in the Northern Hemisphere.) Ancient Celts called it Beltaine, which is still celebrated today. Over the centuries, it evolved and took on a more secular nature in Europe, including the addition of maypole dances that the holiday is now associated with. Check out these 19 spectacular photos to celebrate the start of spring." 
"This is a very interesting article," she thinks.  
As she continues to read she comes across some information on a Maypole Dance.
The Maypole Dance
Wrapping a Maypole with colorful ribbons might be the most known tradition that still exists in some schools and towns. Originally, the Maypole was a living tree brought in from the woods with much merrymaking. Ancient Celts danced around the tree, praying for good crops and fertility. For younger people, there was the possibility of courtship. If paired by sundown, the courtship continued and then the wedding happened 6 weeks later on June's Midsummer's Day.  
In the Middle Ages, all villages had Maypoles. Towns would compete to see who had the tallest or best Maypole. Over time, this Old English festival incorporated dance performances, plays, and literature. People would crown a "May Queen" for the day's festivities. The Maypole dance became a common rite of spring at colleges from the late 19th century through the 1950s. Seen as a wholesome tradition, this celebration often included class plays, Scottish dancing, Morris dancing, a cappella concerts, and various cultural dancing and music displays. In the 1960s and 1970s, interest waned; the May Queen and her court became more of a popularity contest. Today, the Maypole dance is mainly celebrated in schools (from elementary though college) as a fun spring tradition and sometimes medieval festival. (You can read more here). 
Kimmy can't wait to share this information with her sister. 
Back in Candy Town, Tiffi is very happy to learn that the lockdown is now over. It's time to get together with her sister and best friend so she calls the girls and makes definite plans to meet with them. 
Let's continue with the next part of our story – Tiffi meets up with Coco
Start at the beginning – What is May Day?
This discussion has been closed.