🏅Badges! Join the Weekly Race
HERE
and share your scrapbook
HERE
🍩 Friends Battle Royale! Vote now
HERE
🌈New in the Community? Say Hi
HERE
🦝 Rachel's back in town! Tell the studio what you think
HERE
💰 Guess which is our sweet raccoon's art style and win Gold
HERE
🌴 It's ON! Join our
Weekend Challenge HERE
Chapter 2: Tiffi's arrival to the Candy Kingdom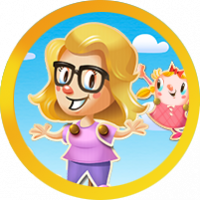 Elsa
Posts: 31,496
Community Hub Moderator
According to Mr. Toffee, Tiffi triggered a 'great scramble' causing a tear in the sky. Down, down, down she fell into the Candy Kingdom triggering the ultimate board game mash up catastrophe. And this is where our story begins….
Meet Tiffi who is 6 years old, and 2' 9" tall. She is very short, so short that it would take six of her to equal the height of Mr. Toffee. She is cheerful, naïve and reckless. Her hometown is Candy Town, but she lived in New Jersey at one time. She likes being active and new things. She dislikes being still and boring things. Her family consists of her older sister Kimmy and her adopted father, Mr. Toffee. She is friends with the friendliest characters. Her birthday was revealed to be 23 January, on the official Candy Crush Saga Facebook page. Her zodiac sign is Aquarius.
Tiffi is the kind, but reckless. She is the adoptive daughter of Mr. Toffee. She was brought to his doorstep in a bag of candy, together with her older sister Kimmy. She wants life to be a constant adventure! While she is genuinely kind, and always offers her help without expecting anything in return, what really gives her a kick is the appreciation she gets from others after helping them. Tiffi accidentally caused the Soda flood, which we see in Candy Crush Soda, when she made the machines in the Candy Factory so effective that they exploded! She still has no idea that happened.
Let's continue here – Mr. Toffee trivia
Start at the beginning – Welcome to the Candy Kingdom Chronicles!

🌈_________________________________ 🌈_____________________________ 🌈
This discussion has been closed.