🏅Badges! Join the Weekly Race
HERE
and share your scrapbook
HERE
🍩 Friends Battle Royale! Vote now
HERE
🌈New in the Community? Say Hi
HERE
🦝 Rachel's back in town! Tell the studio what you think
HERE
💰 Guess which is our sweet raccoon's art style and win Gold
HERE
🌴 It's ON! Join our
Weekend Challenge HERE
Chapter 3: It's Sodalicious in Soda World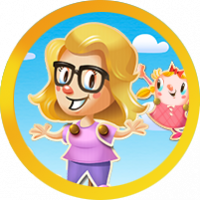 Elsa
Posts: 31,506
Community Hub Moderator
Originally from the Candy World, Soda World was eventually mixed and transformed into a Soda world. If you remember from 'Chapter 1, How it all began', Kimmy went downstairs looking for Tiffi. The soda machine was tilted and then fell down. She landed in the fountain in Candy Town splashing Mr. Toffee with soda. Perhaps this was the beginning of Soda World, but then in the 21st episode, Soda Splash, Tiffi is trying to take the candy cane out of the twist. Genie Jellybeanie tells Kimmy "Tiffi's fixes were too much. That's why the present is so soda-soaked." I couldn't get trivia on how it turned into Soda World but both of these explanations make a lot of sense.
Kimmy is the main character in Candy Crush Soda Saga. As you already know, while looking for her sister, Tiffi, she fell into the Candy Kingdom and her life hasn't been the same since. 
She is strong-willed, independent, and has a great sense of justice. Her best traits are being courageous and loyal. However, her worst traits are being impatient, and she thinks inside the box. She is competitive and enjoys a good challenge. 
She learned a bit of Swedish by playing the board game Norse Myths. Her favorite word is Loss… (roughly meaning "soda pop"). If you click Kimmy on the diorama map, she actually says "Åh Läskeblask!" She is great at martial arts and has many masters around the Kingdom that are happy to train her.
She shares the same diet as her sister eating 500 swedish fish per day because they are good for her joints. Morever, she drinks 100 liters of soda a day because it keeps her on her toes. Her birthday was revealed to be November 12, on the official Candy Crush Soda Saga Facebook page.
With the support of Mr. Toffee and Yeti, Kimmy's journey through the Kingdom begins. Her logical mind initially made her frustrated with the Kingdom's whimsical kookiness, but over the years she has learnt a lot – and the Kingdom has learnt a lot from her!
Let's continue here – Bubblegum troll trivia
or Start at the beginning – Welcome to the Candy Kingdom Chronicles!

🌈_________________________________ 🌈_____________________________ 🌈
This discussion has been closed.