🏅Badges! Join the Weekly Race
HERE
and share your scrapbook
HERE
🍩 Friends Battle Royale! Vote now
HERE
🌈New in the Community? Say Hi
HERE
🦝 Rachel's back in town! Tell the studio what you think
HERE
💰 Guess which is our sweet raccoon's art style and win Gold
HERE
🌴 It's ON! Join our
Weekend Challenge HERE
Chapter 4 The story of the Clouds Kingdom and the Jelly Empire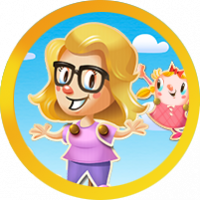 Elsa
Posts: 31,496
Community Hub Moderator
There's a new player in town, the wiggling, jiggling Jelly Queen. Her body is made of pink jelly and she wears earrings and a necklace made of orange striped candies and holds a wand with an orange sphere on its head. One day on her way to the Cotton Candy Clouds she traps Yeti, Jenny's uncle.   
Let's begin this chapter with a short character introduction video from the creators of this game. Listen to what the studio art director and senior game artist have to say about this game.  
Now let's continue to the next part – Meet Jenny
or Start at the beginning  of the Chronicles– Welcome to the Candy Kingdom Chronicles! 

🌈_________________________________ 🌈_____________________________ 🌈
This discussion has been closed.