🥳
Go to level feature!
YOU wanted it, the team made it possible!
HERE
Due to an issue with our servers, on the 5th of July
all Private Messages will be deleted and disabled.
Read more
HERE
🏅 Show us your Scrapbook & GET TASTY BADGES! 📖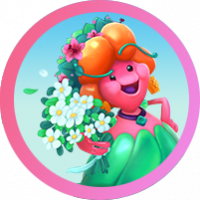 Lola_Pop
Posts: 11,439
Community Manager
Welcome to King Community... 👑━━━━━━━━━━
The big surprise that you've waiting for... ✨💞
Me the king of the wolves, Tiffi, Rachel & Jelly Queen we are created the sweetest challenge for you, Crushers... 👇
👉 Show us how many characters and costumes you have on you Scrapbook to collect your Sweetest badges! 😍
🤔 How? Very Simple... 😘
Share your Scrapbook with a screenshot to get these badges here... 👇
💫 1st Badge for 5 collections!
💫 2nd Badge for 10 collections!
💫 3rd Badge for 15 collections!
💫 4th Badge for 20 collections!
💫 5th Badge for 30 collections!
💫 6th Badge for 40 collections!
💫 7th Badge for 50 collections!
💫 8th & Most Sweetest Badge for 60 collections! **New released badge!**
📢 More information on how you can collect your badges!
You can share your screenshots everytime you want and so if you had more than 60 collections you will get all 8 badges and you should wait for new badges to pop up! Also if you had en example 15 collections you will get the 1st, 2nd and 3rd badges once you post your Scrapbook and if you want to get more badges, work for improving your Scrapbook and once you collect 5 more collections share your updated scrapbook here and you will the 4th badge, etc...
Remember, the badges will be collectable from Monday until Friday on every week and not on the weekends! 😉
⚠ Warning... Beware of Bubblegum Troll!
It is inappropriate that you steal other players screenshots, so if you are going to do that, me and Jelly Queen will send Bubblegum Troll to you and remove an opportunity to win badges!
In case if you don't want your screenshot been stolen by someone, edit your image by adding your name on it! 👍
So let's see your Scrapbooks to find who's the Candy Crush Friends Champion & Collector... 😎
⚡️

Click ➡️ HERE  ⬅️ and go back to your Candy Friends game and collect more costumes!
🍭 You don't play Candy Crush Friends, yet?!
Well, you definitely should give it a try! 😉🥰
👉 Install the game HERE and enjoy the sugar rush... 🌟
Also don't forget to react (Sweet 👍 - WOAH 🙂 - Love 💗) into my discussion! 🎶🎵
Let's see your sweetest comments...
See you in Chocolate Mountains... 💞
** A bit of background story to this sweet thread: MightyWolf came up with the idea that was originally made by @RobinCorte , and @QueenMia kindly agreed to give badges**