Tiffi calls her friends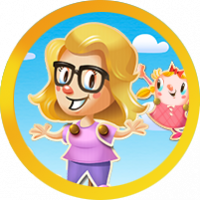 Elsa
Posts: 32,742
Community Hub Moderator
Tiffi looks at her phone for text messages. No one is asking for help with their game. Looks like she might have an easy day today. What she is going to do with her free time? 
"Guess, I will check what's going on the community," Tiffi thinks.
Loads of fun messages posted overnight.  Can't get too involved in those because once you post then everyone that posts afterwards builds up more notifications. Then the important messages get lost in all those notifications. So Tiffi decides that she can't participate in any of those fun messages. She hopes that the players understand why she is not participating. 
She has to call Yeti, Red Rabbit and Chewy to make final arrangements where to meet and what time. Kimmy should be arriving in Candy Town today. First on her list is Chewy. 
"Hi Chewy, how are things going?" Tiffi questions. "I finally heard from Katie and I'm calling to make final arrangements with you for the circus. The circus performance is this Friday  It starts at 15:00 CET but Katie said that we should get there earlier and she can show us around.  I'll meet you at 14:00 CET in front of the ticket booth. See you then." 
Chewy is so excited and can't wait to see the circus. Katie said that there won't be any animals because of the animal cruelty in the past. So, he's wondering what kind of things they will be seeing.  
Tiffi calls Yeti and Red Rabbit and gives them the date and time and where to meet. Now she has to head out to meet up with her sister.  
 Let's continue here – It's circus day today!
Start at the beginning – Let's go to the circus!
Haven't read part 1 of this 2-part story, check it out here: The circus is coming to town!
🌈________________________________________________________ 🌈
This discussion has been closed.