🖤🐧 Idea: Bring Percy & Liquorice Cyclops into the Friends' Kingdom!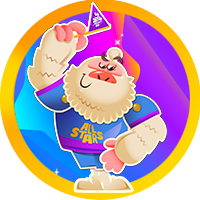 New to the Community? Sign up right here in only 2 seconds! 🍭🍭🍭
Hello Candy Crushers... 🥰
Today, i have a big idea and i think you will love it... On March 1st 2017, excatly when Candy Crush Friends Saga is soft launched, there's two characters that have an appearance in the beta version of the game but you can't unlock them at all... Plus after some updates on the game they are gone completely and sadly they both are never came back until nowadays... 😥
I will show you right now who... 🤗
◉ Liquorice Cyclops!
First Appearance: He is a character in Candy Crush Soda Saga. He first appears in the 14th episode, The Candy Factory...
My idea on his ability: After you collecting 8 Green Candies for him, Liquorice Cyclops can damage the Liquorice Swirls or even other blockers as well if one Liquorice does not appeared or exist in the board, just like Olivia's ability!
◉ Percy the Penguin...
First Apperance: He is a minor character in Candy Crush Soda Saga. He is a penguin that first appears in the 45th episode, Candy Fishin' Hole!
My idea on his ability: Unlike Tiffi's ability, after you give him 12 Purple Candies, Percy will give you 5 Colorful Fishes, not all of them with the same purple color...
It's pretty sweet... right?? 🖤🐧
So i want you to vote for my idea to make our beloved team reduce these charaters again and implemented them in-game... (✿◡‿◡)
Let's see your sweetest comments!! 💗
See you around...
Comments
This discussion has been closed.