Beat the mod and win gold bars and a badge🍭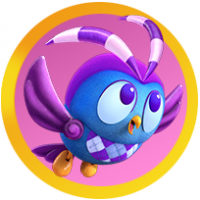 gr33n3y3z
Posts: 7,738
Friends Moderator
CCFS Want to participate? Sign up HERE in 2 seconds!
Hello Crushers! Are you ready for a beat the mod contest?🍭
Here's the level to beat👇
It's simple just play level 1041 and beat my score of 118510.
Rules:
You can post up to five screenshots
You may use boosters if you wish
No complaining about scrolling 😆🤣
Note-
Do not edit or remove anything in your screenshot (avatar, level number or score) you may add your username if you want to your screenshot as long as it dose not cover your avatar, level number or score. Any cheating or manipulation of screenshots will be an automatic disqualification of this contest.
🍭Prizes:🍭
Five players with the highest score will receive 20 gold bars & Beat The Mods badge!
P!esse note: If you have already won the badge you will not receive it again.
This contest will run until June 26th at 1:00 pm EST
 "Terms and Conditions here"
Leave a Comment