Systematic quirks in the "recommended move" algorithm?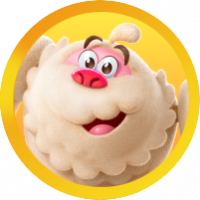 Uncle_Bob
Posts: 162
Level 3
What kinds of systematic quirks do you find in the CCFS algorithm that recommends your next move by highlighting a set of candies to match?
My observation is that algorithm seems to work top-down on the playing grid, and it seems to prioritize making a wrapped candy over making a striped candy over making a fish over matching 3 candies of the same color.
But the algorithm seems to miss some nuanced patterns of candies , and scanning for those helps me me find "better" moves. An example is case today when the algorithm was recommending making a cyan striped candy high in the playing grid, but a much better move was matching 3 yellow candies to "delete the middle" of a column of orange candies, which both exploded one striped candy and simultaneously created another striped Orange candy in its place:
More generally, the recommended move algorithm does not seem to include all of the direct and indirect effects of each possibly move, so I think if we can train ourselves to see those possibilities more clearly and accurately, we can select more effective moves, particularly at the end stages of game when things are complicated and more moves are possible.
Any insights, anyone?