Let's have a bonfire!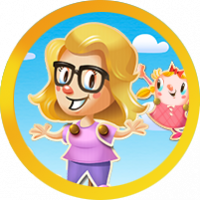 Elsa
Posts: 34,019
Community Hub Moderator
Rachel and Rancid are really enjoying this summer with all the ideas that Tiffi found online. The two of them decide to do the googling this time because things have been quiet in the Friends game so Rachel doesn't have much to do. Rancid, on the other hand, hasn't been going to Dairy District at all since the game hasn't required him to play against the game players with his levels. He has a funny feeling that he might not be needed anymore for the game but he'll wait to hear from the studio. Rachel calls Tiffi to volunteer to do some googling.
"Hi Tiffi, how are things with you?" asks Rachel. "I really enjoyed catching those lightning bugs and thanks for letting us know how long we could keep them alive in the jar. Anyway, the reason why I'm calling is to let you know that Rancid and I want to volunteer to do some googling to learn more about bonfires so that we can plan another summer fun activity."
Tiffi is thrilled that Rachel wants to get involved too.
"That's awesome Rachel," Tiffi says. "Please let me know what you find out about them."
Rachel promises to do that and they say their goodbyes. She takes out her tablet and starts her search. Since she's not sure what to type in the Google search she just types in 'bonfire'.
Much to her surprise she finds out that there are articles comparing bonfires and campfires. She has to read more about this. 
Let's continue - Bonfire vs. Campfire (How to Easily Tell Them Apart)
This discussion has been closed.