👻Celebrate the
spookiest Halloween
with your Friends! Badges and more for you
HERE
and
HERE!
💬Share your
feedback!
Direct line to the Studio!
🍭Celebrate
Candy Day
with us! Win your own Friends portrait
HERE
and some Gold
HERE!
Different players get DIFFERENT versions of Level 10 of the Misty special event!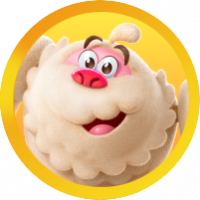 UncleBob2
Posts: 53
Level 2
My partner and I both played Level 10 of the current Misty "special event" at the same time this morning (September 17, 2021). It is a hard level. I was faced with the situation below and was complaining about having to hit both of the "Smash Octopuses" 8 times to get rid of them:
But my partner said "What are you talking about? There's nothing like that on Level 10!" So then I looked at her screen and this is what I saw:
Although the basic physical structure of the playing grid and the basic goal was the same for both of us, our games DIFFERED in
Having 22 versus 20 trapped octopuses.
Having 22 versus 21 allowed moves.
Having Pink Licorice links versus Pop Rocks as blockers at the top.
Having a middle section of 2 Smash Octopuses versus 3 rows of bubble-gum cells.
(Not important: Having a small counter for orange candies at the screen bottom versus having a larger counter located above the lollipop hammers.)
I'm NOT complaining, but I was very surprised that we were playing slightly different versions of Level 10. Has this happened to anyone else (@Lola_Pop ? @DieOmimi ?)? Does anyone know why different versions of a CCFS level are released at the same time? I am surprised because I these versions would require extra programming effort, which would have no discernible benefit to King. It does keep things interesting, though!
Obviously, these versions may differ in overall difficulty, and that may help explain why some folks seem to breeze through a CCFS level and other folks have a lot of problems with it. For people like myself who are willing to give other players advice on how to play a CCFS level, we have to be VERY careful to check that whatever arrangement we experienced for that level is the same for the person who is asking for advice! Since we also know that changes are made on an ongoing basis to the "old" levels of CCFS, the only safe way to give advice is to have the person post a screenshot of exactly what they are currently facing at that level. Cheers!