🏆️ August Champions of Champions Challenge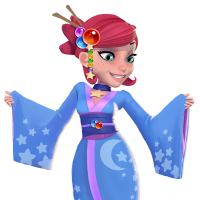 Minatozaki
Posts: 333
Community Manager
Dear Champs of Champs,
Ready for some more Championlicious Challenges?
This is the badge you'll be fighting for:
Are you ready?
How to get the badge?
The Champs of Champs need to pass all challenges in a month- if required, there will be a bonus midweek challenge, so an extra chance to earn the badge!
Each Champion needs to participate at least in 3 of the weekly Champions of Champions Challenges to get the badge!
Dates
4th-8th of August - ENDED
11th-15th of August - HERE
18th-22nd of August
25th -29th of August
That's all! Wanna start? This Weekend's Challenge for the Champions of Champions team is:
Team goal for Week 1 - Champions have to exceed the score of 140,990 points (100 times in total), but can't be higher than 150,000 points.
Rules: 👇
You must play with Tiffi (in any costume) as your Friend.
You can use boosters if you want.
The number of stars does not matter -- only the final score. Your final score must be higher than 140,990.
Post a screenshot showing your final score. Please do not edit or remove anything in your screenshot. Your avatar, the level number, and your final score must be clearly visible.
No old screenshots please!
You can play or replay any level above 200 or from a current special event in your Candy Crush Friends Saga game.
Dates: 👇
The competition begins NOW and ends on Monday, 8 August 2022, 20:00 Central European Summer Time (14:00 Eastern Daylight Time).
Leave a Comment