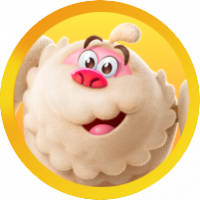 Postalangel

Level 2
About
Username

Postalangel

Joined

Visits

16

Last Active

Roles

Member

Points

72

Posts

14

Badges

14
Comments
Yellow because it's rare and special ⭐⭐⭐

Hi @Glenn1972 Level 6,000

Hi @bearwithme Level 5,000

Hi @Origins7_Dale Level 4,000

Hi @KingChewy Level 3,000

Hi @mysticalmysty Level 2,000

Hi @Sukanta_Biswas Level 1,000

The podium one I see Everytime I win a level...it resets sometime on Sunday and then at some point on Monday or Tuesday I get the one of me at the finish line, that's when I win the prizes and that's the one I did not get those 2 weeks...granted, so…

@"Jelly Jenny" sorry I found my user ID it's 7503948844...and like I said I did receive this weeks reward for the weekly race late last night but the 2 weeks before that I have still received nothing. I didn't take a screenshot those 2 weeks because…

@"Jelly Jenny" for some reason when I went back on to Candy Crush the orange logo was there my user ID is 7503948844

@"Jelly Jenny" this is the first time I've been asked for my user ID and the first time I was told how to get it however even after I logged out when I hit the wheel at the bottom left corner I do not get an orange icon that I can double tap. I hav…

@CocktailsVA I agree with you it is a waste of time...I've won this weekly race every week since I started playing and always received a prize, now it's almost like they're purposely not giving me anything to try and force me to buy boosters instead…

Sweet thanks Jelly Jenny! It happened again this week which makes this 3 weeks in a row unfortunately I didn't see the post about taking the screenshot, I don't think it would've helped, the only thing I can do is take a screenshot before it ends, I…

I've won the weekly race that ended this past Sunday and the Sunday before but I haven't received a prize. I always get the reward by Monday or by Tuesday the latest, but not these past 2 weeks anybody know why?