The Chocolate Box: complete quests to win rewards! Share your Tips & strategies here!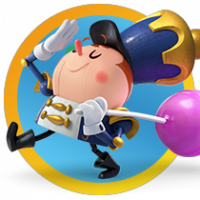 Pounawea
Posts: 3,747
Community Manager
Dear Community,
Who doesn't love a box of chocolates?! Starting this week, we will be rolling out the Chocolate Box feature to more players.

With this feature, we will be able to complete quests to win rewards. Just choose a chocolate from the box and once you have completed one of each color you'll win a reward!
How does the feature works?
We will start with a box filled with 16 delicious chocolates. There are four different colors, each containing a specific quest.

Once you have completed one of each color (four in total), you receive a reward and the Chocolate Box is finished.

Complete 1, 2, 3 or more quests per day, depending on the option you are given.

The Chocolate Box is available from level 50 onwards.


Let me share with you below how the Chocolate Box feature would look like:
*Please NOTE this is only a mock-up.

Once you have completed 4 quests, you will get your rewards!
Some Candy Crushers were already sharing tips and strategies in the forum!
@Flanje
@JethrinaBodina
@frenioz00
@AkumaXX
. Please keep doing it here!
What do you think of this feature?
Share your Tips and Strategies below! 

👨‍👩‍👦‍👦   New to the Community? Sign up HERE in 2 seconds!