🚂🕓 Say hello to…. (finished)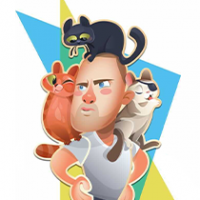 Crazy Cat Lad
Posts: 10,501
Community Manager
🍬Sign up here to participate and win the Gold Bars!  
The name of our new character in the Candy Kingdom is….
Casey the Conductor!
Thanks for your help on choosing the right name for our new friend in the game. The poll was exciting to follow and you can find the poll and the players who won Gold Bars here.
Who is the new character then? Who is Casey?
Casey the Conductor is in control of Candy Express, the railroads in Candy Kingdom.
Thanks to Casey and her punctual timetables all trains are always on time and she gets the game maps connected with each other. All the way from Gummy Gardens to Lollipop Meadow and further to Chocolate Mountains. 
Not to forget about the Soda Sea! Which would be completely isolated without her railroad expertise. 
Casey is a true problem solver that keeps the whole Candy Kingdom and its friends together!
Have you seen Casey in the game yet? 
On Wednesday 3 June Casey will move into the game on Android and Facebook and you will see her on one of the game maps. Casey will come to iPhone/ iPad devices and to the W10 app on Monday 8 June!
If you can find her, comment below on this page the name of the episode or map where Casey moved into and get the chance to win Gold Bars.
10 players that found her and answered the correct name of the game map will win 10 Gold Bars each.
Remember to update the app so Casey will appear in your game so you can win the Gold Bars! 
You have until 11 June 2020 12.00 CEST to participate and you'll find terms and conditions here.
Do not have a Community account yet? Then sign up right here to participate in the competition!