🎃
Halloween in Candy Crush Saga!
Find all details
HERE
✨
All Stars US!
Find all info and claim your star badge
HERE
Sneaky, strategic, dirty tricks by King: Sabotage the fun!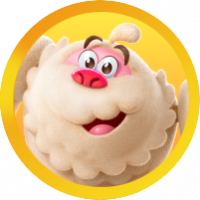 B-2
Posts: 56
Level 3
I am sick of King's sneaky ways to take away the fun of the game AND try to get us frustrated enough to maybe spend money?? Here are a few:
1. After you spin the wheel, whatever you win, is automatically green checked on your booster page and ready for use. You have to specifically uncheck it if you're not ready to use it yet.
2. The "play on" button (which will cost 10 bars) is where the "retry" button used to be. If not paying close attention, it will cost you!
3. When you rank up, the five lives that you earn will not be added above and beyond 5 total. So if you already are sitting at 5 lives, you will get nothing! They do not add on above 5!
3. Twice when I spun the daily wheel, it was stuck on the side of the prong, but on the jackpot side, yet I got the coconut wheel on the other side of the prong.
4. I often play on more than one device, and if they are not synced up yet, I easily can go into the wrong level. One that I've already played. And I either have to play and win it or lose a life because we can no longer back out without losing a life.
5. I keep getting matched up in the Fantastic Five with people who are obviously not even playing. You would think that the system would be able to do better than this. (I have not been offered team choice yet)
6. I recently got three goldfish I didn't want, at the cost of seven bars, when that sale button popped up on the screen exactly where I would normally use to advance to the next level- strategic placement on King's part! Putting buttons where if we are not paying close attention, will be to their advantage.
7. No confirm or deny option. Give us a choice to correct our error or change our minds! So do not bump any button or booster by mistake!
8. "Play on?" Screen comes up and covers our game, so we can not even look back and see if it's worth our while. Game forces you to make a quick, blind decision.
Example of #3:
I play this game early in the morning while I'm having my coffee. It's part my wake-up routine. So they probably enjoy people like me who are still a little foggy when they play, and waste all their perks. 
Game is supposed to be fun, but taking away perks, making levels harder, and all the dirty strategies mentioned above, make it so frustrating! Also just goes to show that King tries to trick us into spending money, because most of us are pretty dead set against doing that intentionally. Yet, dang! we are hooked....of course, King knows and saw to that, too!!!!!