🎃  👻 🕸️ Halloween 2020 - Sweeter and spookier than ever in Candy Crush Saga!
HERE!
🍰️ 🎉️ 🎈 Level 8000 in Candy Crush Saga! Let's make the biggest cake together!
HERE!
🍬 🍬 The Candy Necklace in Candy Crush Saga!
HERE!
/ / 🎯 Level complete messages improvements! More info
HERE!
🏆🥇 Win Gold Bars and exclusive Community badges
HERE!
[Finished] 🏁🏎️ The Community Race! Complete 50 levels in a week and get an exclusive badge!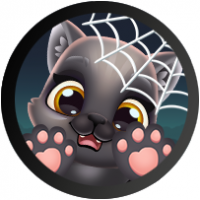 Crazy Cat Lad
Posts: 7,865
Community Manager
👨‍👩‍👦‍👦 New to the Community? Register here in just 2 seconds!
Are you ready for the next Community Race Challenge?
This week it's getting tough, the challenge is to pass 50 levels! Can you beat this challenge?
If you do, you can win this level badge with Odus and also Gold Bars to your game!
Share your current level by posting a screen shot of your game map with the current level now and then another pic of the game map when you have passed the 50 levels. You can post both screenshots in the same comment if you wish, but both screen shots need to be of the game map. If you need help with taking a screen shot, check HERE.
All players that completed 50 levels before Wednesday will get the badge and 3 players will also win 20 Gold Bars to their game!
To make it easier for us not to miss your badges, make sure you show us both screenshots in the comments and let us know how many levels you have passed.
Good luck!
You have until Wednesday 9 September 11:00 EST to participate and you'll find terms and conditions here.
Halloween 2020 🎃👻 sweeter and spookier than ever in Candy Crush Saga!Check it out 👉👉👉 
HERE