Meet Coco and get the chance to win Gold Bars in the color contest! (finished)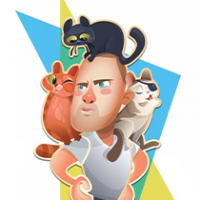 Crazy Cat Lad
Posts: 12,505
Community Manager
👨‍👩‍👦‍👦 New to the Community? Register here in just 2 seconds!
Have you seen the new fellow that moved into Sunny Swamp last summer?
This happy, optimistic and friendly fellow in rainbow colors is Coco!
With his bright colors and sweet giggle he lightens up the day and makes everyone smile in the Candy Kingdom. 
Coco loves all the colors and candies in the whole world, but he wants to know what your favorite color is in Candy Crush Saga? 
Is it the Red, Orange, Yellow, Green, Blue or the Purple that is your favorite candy color in the game?
Vote on the candy and color you like the most and comment below why you love that specific color. 
If you're not a Community member yet, please sign up HERE to be able to vote and get the chance to win Gold Bars to your game!
We'll reward 20 Gold Bars to ten players that voted and also commented on their favorite color when the poll closes.
The Gold Bars will be given out on Friday 11 December already, so don't hesitate to vote and comment now!
You have until Friday 11 December 06:00 EST to participate and you'll find terms and conditions here.
❄️☕️🍪 Don't forget to help Olivia in her Holiday Season preparations. She needs your help in the kitchen HERE!
Meet Coco and get the chance to win Gold Bars in the color contest! (finished)
19629 votes