Yeti's Thanksgiving Challenge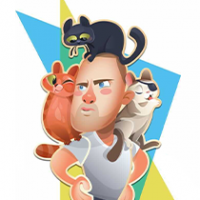 Crazy Cat Lad
Posts: 8,732
Community Manager
Yeti's Thanksgiving challenge
Join Yeti's Thanksgiving challenge during the whole Thanksgiving week, starting on Tuesday 24 November!
In Yeti's Thanksgiving challenge there are three missions and you will have two days to complete each one of them.
The more missions you complete the more Boosters will Yeti reward you with!
Are you ready? Mark your calendars with these dates so you won't miss any of the missions:
1st mission 24 & 25 November
Complete 12 levels in the game
2nd mission 26 & 27 November
Complete 4 levels with Sugar Stars
3rd mission 28 & 29 November
Complete 7 levels with a Golden Crown
On Monday 30 November Yeti will give out all prizes and the reward depends on how many of the three missions you did complete the previous week. Do you think you can beat them all?
The Thanksgiving event will be available for US players only. All players outside the US will get a slightly different version of the event, but the missions and rewards will be the same for all players around the world.
Remember to celebrate Thanksgiving here in the Community as well. Head over to our Thanksgiving page HERE.