💆‍♀️
Mindful Journey!
All about Candy Crush January events
HERE
🗻
Temple Training - The Bonus Rounds!
An extra chance to win Gold Bars in the event
HERE
Celebrate Thanksgiving with us in the Community!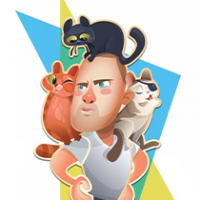 Crazy Cat Lad
Posts: 12,489
Community Manager
Thanksgiving is around the corner and no matter if you're located in the US or a country where it's not celebrated, you surely have heard about Thanksgiving and what it means.
To get the Community in this holiday mood with love, friendship and understanding let us know whom of your friends in the Community you wanna thank or who you appreciate that they are here around.
Tag your friend on this thread and let them know you appreciate their help, friendship and presence here in the Community.
All players that celebrate Thanksgiving with us here in the Candy Crush Saga Community will get this Yeti Thanksgiving 2020 badge!
During the whole Thanksgiving week Yeti will have a Thanksgiving challenge in the game. Read all about it HERE.
This discussion has been closed.