💆‍♀️
Mindful Journey!
All about Candy Crush January events
HERE
🗻
Temple Training - The Bonus Rounds!
An extra chance to win Gold Bars in the event
HERE
❄️🎄🎅 Holiday Event Calendar 30 Nov - 6 Dec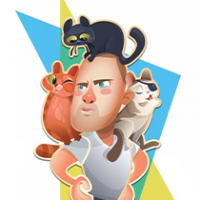 Crazy Cat Lad
Posts: 12,511
Community Manager
🎅

New to the Community? Register here in just 2 seconds.
Candy Crush Saga Holiday Event Calendar 30 Nov - 6 Dec!
Which event is your sweet favorite?
Ho, ho, Holiday Season is coming!
Are you as excited as Tiffi over the Holiday Season that is on the way? 
We hope you are, since Candy Crush Saga will be packed to the max with events and sweet surprises the whole December!
The winter and Holiday Season fun starts already on Monday 30 November. Mark your calendars with these events and dates this first week:
Flavor of the Day
30 November - 6 December
Olivia has a new mission and reward for you every day this week! Collect a specific candy to get a reward from Olivia and her Daily Baking Show. You will need to complete the challenge the same day, since the next day Olivia will have a new quest for you.
Monday, collect 1 200 Blue Candies
Tuesday, collect 250 Striped Candies
Wednesday, complete 10 levels
Thursday, collect 25 Stars
Friday, collect 20 Color Bombs
Saturday, collect 5 Golden Crowns
Sunday, collect 1200 Green Candies
Sweets in Islands
3 - 7 December
Collect the specific candy that Yeti will let you know in the game by playing your regular levels. When the mission is completed, you will get a Candy Hammer and the Yeti's Sleigh Ride gets started…. 
Yeti's Sleigh Ride! (Week 1 of 5)
3 - 7 December
If you liked to play Dexter's Space Leagues, you're gonna love Yeti's Sleigh Ride!
Compete with other players by collecting candies and advance on the scoreboard. If you're doing well, you will be rewarded and also get the chance to get to the next league. Start in the Candy Town Square and continue the winter wonderlands through Fantastic Forest, Lemonade Lake, Chocolate Mountain and all the way to Popsicle Pole.
This is week 1 of 5 of the event. Do you think you will get to the Popsicle Pole by the end of 2020?
Winter Treasure 
3 - 7 December
Keep an eye on the doors that will appear on some levels!
When you reach a level that has a door, someone will open it and give you a sweet reward. There will be several doors you can knock on and get a treat from, but remember to get to there before the time runs out!
Sweet Winter Memories
30 November - 6 December
After the success of The Crush is Real earlier this year this event is now back and in a full Holiday and winter mode! This time our Level Designers picked their favorite levels for you to play, crush and to win some sweet rewards!
The sweet challenges are not only available in the game!
Help Olivia to organize her kitchen that is in a full (but chaotic) Holiday preparation and get the chance to win 20 Gold Bars. You can find the competition HERE in the Community.
Find all events in 7 - 13 December HERE!