❄️☃️ Winter Festival ☕️ New event 21 Dec - 5 Jan!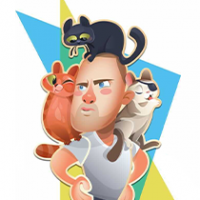 Crazy Cat Lad
Posts: 9,483
Community Manager
🎅 New to the Community? Register here in just 2 seconds.
Candy Town has got hit by a snowstorm and is all covered in snow!
Tiffi, Yeti and Mr Toffee need your help to get rid of all snow and make the Candy Town sweet again.
The event starts on 21 December and runs until 5 January, so don't wait too long with visiting the Candy Town during the Holiday Season.
How can I rescue Candy Town from all snow after the storm?
Simply play the levels in the event and for each completed level you will get a Mug of Hot Chocolate. 
The Hot Chocolate is the event currency and you can find all your collected Mugs of Hot Chocolate in the upper right corner.
The Hot Chocolate is the key!
The Hot Chocolate is being used to uncover Candy Town from all snow. When all snow has been cleared you can continue with decorating all buildings to make them even more sweet and festive. You uncover the snow from the buildings one by one and use the Hot Chocolate you collected.
The more buildings you upgrade, the bigger Mugs of Chocolate you will get after completing a level. 
Bigger Mugs of Chocolate means also that you will be able to upgrade the buildings faster and make the Candy Town in a Winter Festival mode.
Tap on the Mug down to the right to see your current mug size.
What can I win?
Mr Toffee… Sorry! Major Toffee in Candy Town will reward you with a Booster for every five levels completed. 
That's not all though! For each tier reached in the event, you will get a bonus reward; 1 Party Booster and 2 Color Bombs!
Follow your progress and rewards
The green check mark down to the left will show your goals; your progress for the next Mug of Hot Chocolate size and also the next Booster reward. 
The progress for the next tier and the bonus reward is shown above in the game next to the Mugs and Lives. 
Candy News keeps you updated
Don't forget to read the Candy News when they come up in the event to be updated on all what happens in Candy Town and what you will need to do next!
If you don't read the news, you may get lost in Candy Town this winter.
Are you ready to clear all snow and spread the joy and festive mode in Candy Town?
Please share a screen shot of your progress in the event and how your Candy Town looks like!
Are you having a Mug of Hot Chocolate as well when playing? Or what keeps you in a Holiday mood when you play?
❄️🎄🎅 Find the complete Holiday Event calendar HERE to see all Holiday events in your game!