Let's Candy-count ⬆️ from 0 to 9000 ... before the release of level 9000 on mobile and Facebook!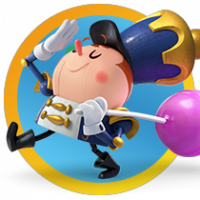 Pounawea
Posts: 3,699
Community Manager
👨‍👩‍👦‍👦 New to the Community? Register to participate in just 2 seconds! HERE 
Dear Candy Crushers,
This week we will be releasing for our Windows players the Level 9000 in Candy Crush Saga! [Check out the current highest levels in the game per platform HERE]
Together we managed to count down to 0 before the release of this level in the game, and now... do you think you will be able to make it up to 9000 before the release of Level 9000 on mobile devices and Facebook? Let's start counting up from 0 to 9000!
The update with level 9000 will come to the W10 app on 10 March, to Facebook and mobile devices on 24 March.
👉 Do you think we can make it?! 😮🥳
Let's make it happen, Candy Crushers!
[Tagging @Diamond Lim and @kiara_wael to spread the word! 🙌]
👨‍👩‍👦‍👦   New to the Community? Sign up HERE in 2 seconds!