⚠️
Need help?
Check our FAQ:s first
HERE
Due to an issue with our servers, on the 5th of July
all Private Messages will be deleted and disabled.
Read more
HERE
🧔🔄👩 New Profile and Friends feature in the game!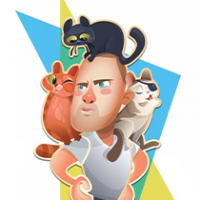 Crazy Cat Lad
Posts: 13,870
Community Manager
👨‍👩‍👦‍👦 New to the Community? Register here in just 2 seconds.
As you may have noticed already a new profile and friends feature is being introduced in Candy Crush Saga.
If you are playing Facebook connected then the old leaderboard and rankings are being replaced by this new format!
So what's new exactly?
In the new format you can add the friends YOU want to have in your game.
The friends you select will be those who will show up on the map, on your level high scores and players you can send and receive for lives from.
This means also that you can choose players you don't want to show up in your game by not selecting them.
How can I add these friends?
The option is still in progress and you may not yet be able to choose your friends, yet.
Once the feature is updated you will get a message to connect with your friends. Check the friends you want to connect with and tap OK!
Once your friends have confirmed to connect, they will appear in your game.
When will the feature be updated so I can add my friends?
The feature is under construction and we are counting this to work fully soon for all players.
If you still see the message "We are collecting your friends' responses..." and no option to connect with your friends, please stay tuned, your game will be updated soon so you can choose your friends as well.
I deselected all friends to connect with and now no one will appear!?
If you didn't select any friends to connect with, then no friends will appear in your game.
We are working on more ways to add your friends, if you accidentally did not select them.
This discussion has been closed.