🎃
Halloween in Candy Crush Saga!
Find all details
HERE
✨
All Stars US!
Find all info and claim your star badge
HERE
👑🗺️🥚 Candy Crush Spring Egg Hunt!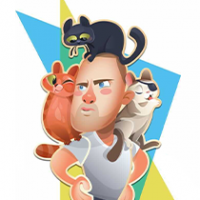 Crazy Cat Lad
Posts: 11,431
Community Manager
👨‍👩‍👦‍👦 New to the Community? Register here in just 2 seconds.
Join the sweetest Egg Hunt in 2021 in Candy Crush Saga!
Three weeks, three challenges and three chances for sweet rewards!
No need to go far away to participate in an exciting egg hunt this spring. You'll find the sweetest egg hunt right in your Candy Crush Saga game!
Please note that if you are at the end of the map, playing one of the last levels, then you will get Dexter's Space League instead in your game. This is based on the feedback we got from you HERE.
When? How?
Each week from Wednesday to Sunday the following three weeks there will be an egg hunt mission in the game where you will compete against other players.
The missions will be the following:
👑 Week 1 - Crowns
31 March - 4 April
Collect as many Golden Crowns you can by completing the levels on the first try. 
🗺️ Week 2 - Levels
7 April - 11 April
Complete levels. Pass as many new levels you can on the Saga map.
🥚 Week 3 - Eggs
14 - 18 April
Collect the blue egg candies. As you surely have noticed the previous weeks, all blue candies are now turned into egg shaped candies. Collect the eggs by crushing as many of the blue egg candies as you can. 
What can I win?
The top 10 players on your scoreboard and group of players will get rewarded on Monday when the weekly mission has ended. The higher up in the top 10 you get, the better rewards.
On the event's scoreboard in the game you can follow your score and position every day. 
Bonus rewards!
Did you know that even though you didn't get to the top 10 you can still win some sweet rewards? 
All players that shared their score from the event here in the Community have the chance to win Gold Bars!
Simply post a screenshot of your position on the scoreboard in the event here on this page to participate. Three players who posted their scores will win 20 Gold Bars each week.
👑 Golden Crowns Week 1
Post your screenshot by 6 April 06:00 EST/ 12:00 CET in order to participate.
🗺️ Levels Week 2
Post your screenshot by 12 April 06:00 EST/ 12:00 CET in order to participate.
🥚 Eggs Week 3
Post your screenshot by 19 April 06:00 EST/ 12:00 CET in order to participate.
You can find all terms and conditions here.
On top of that!
🐰 You can win a Party Booster in Benny's Eggstra Spring challenge HERE!
📱 Get back to your game HERE 📱