🔮🗺️ Would like to see an Adventure Path in the game?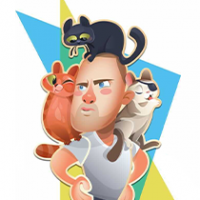 Crazy Cat Lad
Posts: 11,106
Community Manager
👨‍👩‍👦‍👦 New to the Community? Register here in just 2 seconds.
The Bubblegum Troll saw a new Booster Machine in his crystal ball a time ago (check it out HERE), but right after that he saw something more... A path!
-What? A path? Tiffi and Yeti shouted. 
-Yes, an Adventure Path!
-Wow!!
This Adventure Path features 4-5 slightly more challenging levels that appear at the start of some episodes in the game. 
You can then choose to play these levels instead. In the Adventure Path levels you will have the chance to play exciting and more recent content.
If you manage to beat all Adventure Path levels, you would then fast-forward 8-10 levels in the regular Saga map!
The Adventure Path would also work with existing features such as Episode Race, Weekly Race, Fantastic Five etc. and you can switch between the regular Saga levels and the Adventure Path as many times as you like.
If you could affect the future, once again, would you like to see this Adventure Path in the game? How do you feel about playing exciting alternative levels at some episodes?
Please vote and comment what you think and feel about this?
🔮🗺️ Would like to see an Adventure Path in the game?
143 votes
Divine! I would love to get the chance to play an alternate path that gives me an adventure with exciting and challenging content.
Salty. I'm not a fan of new features or any adventures.