🍬🧩 Puzzle Adventure - Sweet June events in Candy Crush Saga!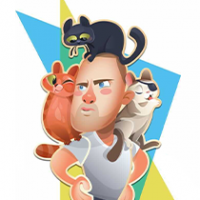 Crazy Cat Lad
Posts: 10,501
Community Manager
👨‍👩‍👦‍👦 New to the Community? Register here in just 2 seconds.
June 2021 will be called Puzzle Adventure in Candy Crush Saga!
The green candies have changed their shape into puzzle pieces and you will find loads of new puzzly events in the game.
Let's see how many of the puzzles you will solve during the month.
Puzzle Pursuit
7 - 13 June
New sweet team event in Candy Crush Saga. Find all details about the event HERE.
Leave feedback about the event HERE.
Rocky Road
14 June - 4 July
Join Yeti on his road trip through Chocolate Springs, Olivia's Tavern, Golden Color Bomb Island...
Collect 50 of the green candies to enter the event. Then keep collecting the specific candies to advance to the next town and league and claim sweet rewards.
You can find your scores and position in the league on the event's scoreboard.
Saga Stories: Save Minty!
7 June - 4 July
Oh no! Minty has been kidnapped! Tiffi and Misty have therefore teamed up to find and free Minty. Follow the story by playing your regular Saga levels and claim sweet rewards when you reach the milestones on your Saga map.
Cloud Climb
7 June - 4 July
Join Tiffi and climb up on the Jelly Queen's Rainbow Climb up to the pink clouds! On your way up you can win divine rewards. 
How high up do you think you dare to go so you won't lose it all?
Quests
7 June - 4 July
Every week there will also be a quest where you can win more bonuses.
👑 Week 1 (7 June)
Golden Crowns! Make at least 40 Golden Crowns by completing levels on the first try in 3 days to get an extra reward.
🏆️ Week 2 (14 June)
Master Trophy! Get the Silver, Gold or Diamond Trophy in 5 days to get a bonus. The Diamond Trophy will give you both Boosters and Gold Bars!
🐨 Week 3 (21 June)
Yeti's Missions! Complete Yeti's missions during the week to win rewards. The 3 missions will be; Pass 15 levels, Complete 5 levels with Sugar Stars and Make 9 Golden Crowns. The more missions you complete, the bigger rewards will Yeti give you when the events ends!
✨ Week 4 (28 June)
Sugar Stars! Get 5, 15 or 30 Sugar Stars on your levels to win Boosters. You will win a bigger reward for each tier reached!
❤️🧡💛💚💙💜 Don't forget to celebrate the colourful month of love now in June, HERE in the Community!