🐢
Candy Creative Season!
More info about the Candylicious events
HERE!
🔮
Magic Shuffler -
New Booster in Candy Crush Saga!
HERE!
🏃
Candy Spring Race!
Collect badges and win Gold Bars
HERE!
🐙 Jelly Jar - New feature in Candy Crush Saga!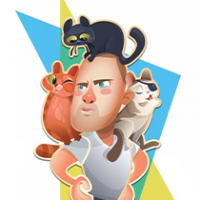 Crazy Cat Lad
Posts: 13,538
Community Manager
👨‍👩‍👦‍👦 New to the Community? Register here in just 2 seconds.
Something jellylicious is coming to the game - let's welcome the Jelly Jar to Candy Crush Saga!
When and where does it appear in the game?
The Jelly Jar can appear on any of the Jelly levels where no jelly or not enough jelly are available at the start of the level.
How does it work?
Match candies next to this jiggly friend and it will spread out jelly on the game board.
You will need to match candies up to two times before the Jelly Jar will spread the jelly and leave the game.
The jelly will land on the 12 squares around the Jelly Jar and also doing damage on any blockers around it!
The Jelly Jar with the lid on.
Two matches of candies next to it are needed.
The Jelly Jar without the lid.
One match of candies left.
The Jellyfish is out of the jar!
The Jellyfish is only waiting for a candy cascade match to spread the jelly around and float away from the game.
Are you ready for this jelly?
Let us know how you feel about this new jellylicious addition in the game!
The Jelly Jar will be available from level 9621 in the game which will be released on W10 on 9 June 2021. Mobile devices and Facebook will be updated with the Jelly Jar levels on 23 June 2021.