🐢
Candy Creative Season!
More info about the Candylicious events
HERE!
🔮
Magic Shuffler -
New Booster in Candy Crush Saga!
HERE!
🏃
Candy Spring Race!
Collect badges and win Gold Bars
HERE!
🤸‍♂️💙 Sweet Happiness and balance with Tiffi - part 1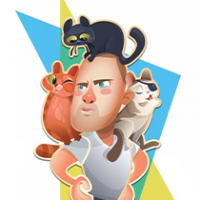 Crazy Cat Lad
Posts: 13,551
Community Manager
Playing Candy Crush Saga and being in your own candy bubble is for many of us a way to relax and disconnect from the rest of the world and all worries outside.
Mindfulness and meditation is our theme in Candy Crush Saga this January. So let's share our Candy Crush experiences and what the game means to us to keep our mind and soul both sweet and balanced.
This week, end the following sentence by commenting it below:
The best place and moment to play Candy Crush Saga is...
We'll pick three players with sweet sentences and stories next Monday who will receive 24h Unlimited Color Bombs to their game.
Make sure to comment before next Monday before Part 2 starts!
💆‍♀️☁️Find more info about all Mindful Journey events HERE!
You have until Monday 17 January 2022 05:00 EST/ 11:00 CET to comment and win the Color Bombs. You'll find terms and conditions here.
👨‍👩‍👦‍👦 New to the Community? Register HERE in just 2 seconds.