🏃
Candy Spring Race!
Collect badges and win Gold Bars
HERE!
❓️
Can you crack the Candy Crush code language?
Win Gold Bars if you can
HERE!
🐨👸💃💪
What Candy Crush player are you?
Find out and claim your personal badge
HERE!
🐅 Celebrate the Lunar New Year and claim your Tiffi Tiger badge!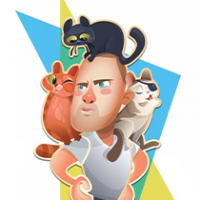 Crazy Cat Lad
Posts: 13,480
Community Manager
On Tuesday 1 February it's time to celebrate the Lunar New Year!
We'll get a new and fresh start on the 1st February. The year 2022 will be stronger, wiser and hopefully also sweeter since it will be the year of the tiger.
Tiffi has got all dressed up to celebrate the year of the tiger and her expectations for this year are big.
What are your expectations for this year?
What are you hoping on that will happen or what will you finally do this year?
Let us know what your hopes are for 2022 by commenting below.
All commenting players with hopes and expectations for 2022 will receive a Tiffi Tiger badge!
You have until Friday 4 February 2022 05:00 EST/ 11:00 CET to join the celebration and claim your badge.
👨‍👩‍👦‍👦 New to the Community? Register HERE in just 2 seconds.
This discussion has been closed.