🏆️
Candy Cup!
Find out everything you need to know
HERE!
🥳
Want to be a part of Candy Crush Saga's 10th anniversary?
Preview of what's coming soon
More Info HERE!
🎟️💰️ Pot of Gold - 20 million Gold Bars to share!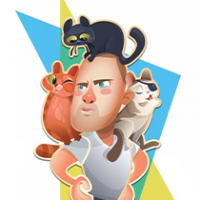 Crazy Cat Lad
Posts: 14,138
Community Manager
Chase the rainbow in Candy Crush Saga and find gold!
20 million Gold Bars at the end of the rainbow is waiting...
Get ready for Pot of Gold - a new golden challenge in Candy Crush Saga on 18 August!
Collect candies on your levels to chase the rainbow and find the gold.
18 - 21 August
The first round is a qualifier round.
Collect the Blue Candies on your regular Saga levels. When you hit the target you'll get rewarded with the Golden Ticket that takes you to the Final on 26 August.
22 - 25 August
If case you missed the Qualifier Round or didn't manage to collect all blue candies, you have a new chance in the Wild Card Round!
In this round collect the Green Candies on your regular Saga levels to grab the Golden Ticket to the Final.
26 - 29 August
It's time for the big Final!
In the big Final, collect the Orange Candies and get your share of the gold at the end of the rainbow.
All players who reach the target in the Final will share 20 Million Gold Bars!
Please note that the reward will be given out after the event ended, even though you hit the target earlier.
More Gold in Community!
If you manage to get to the Final in Pot of Gold, share your achievement here on the thread.
All players that managed to get to the Final will get an exclusive Candy Pot of Gold badge. Five randomly picked players will also win 20 Gold Bars as an extra bonus!
You can share a screenshot of your game when completing the Qualifier or Wild Card Round or your progress when collecting the orange candies in the Final. Any screenshot from your game that shows you made it to the Final.
Don't miss...
...to give us feedback about the event HERE!
You have until Monday 29 August 2022 03:00 EST/ 09:00 CET to post your screenshot to claim your badge and have the chance to win Gold Bars. You'll find terms and conditions here.
👨‍👩‍👦‍👦 New to the Community? Register HERE in just 2 seconds.