🐢
Candy Creative Season!
More info about the Candylicious events
HERE!
🔮
Magic Shuffler -
New Booster in Candy Crush Saga!
HERE!
🏃
Candy Spring Race!
Collect badges and win Gold Bars
HERE!
🔍️🍭 Tiffi's Trick - get a Candy Hammer!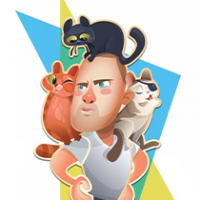 Crazy Cat Lad
Posts: 13,525
Community Manager
👨‍👩‍👦‍👦 New to the Community? Register here in just 2 seconds.
Did you know the secret trick in the new maps in Candy Crush Saga? The Tiffi's trick!
Here's how you do it:
Scroll to the map Lollipop Meadow in your game.
Double tap Tiffi to the left on the map three times.
Tiffi will then give you a Candy Hammer and wish you Happy Crushing!
Did you know about this secret trick already? If not, try it in your game to get an extra Candy Hammer. 😉