🍬🍭 Candy Crush - Candy Collector Contest! (finished)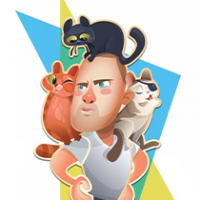 Crazy Cat Lad
Posts: 13,502
Community Manager
Collect Candies to celebrate the National Candy Day!
Gold Bars, an exclusive avatar and even more Gold Bars to win.
We are celebrating National Candy Day here in the Community.
In this celebration we also have a sweet challenge for you - Welcome to the Candy Collector Contest!
This contest includes all four Candy Crush games and you can win in every game, plus win the jackpot on the main page in the Community Hub HERE!
The aim and rules in the Candy Collector Contest are simple.
Play any level (a level above 125) and make as many as you can of a specific Special Candy. Then take a screenshot of your candies and the game board. Finally post your pic here on the this thread.  
Here in Candy Crush the task is to make as many Color Bombs as you can on a level. 
You don't need to complete the level or finish it, just make as many Color Bombs as you can and take a screenshot before they get crushed.
Each Color Bomb you have on the board will give you Gold Bars if you get picked as one of the winners. This means, the more Color Bombs you make, the more Gold Bars you can win. 
When the contest ends, we will pick three random players among all screenshots and those players will win 10 Gold Bars for each Color Bomb they made on a level in their Candy Crush Saga game.
Win in all Candy Crush games and win the Jackpot!
To collect the other Special candies in the three other Candy Crush games, but also how to win the jackpot with more Gold Bars, head over to the contest's main page HERE.
The participation for this contest will end on 8 November 2021 at 05:00 EST/ 11:00 CET and you can find the Terms & Conditions here.
👨‍👩‍👦‍👦 New to the Community? Register here in just 2 seconds.
This discussion has been closed.