💡
Please only post ideas on how we can improve the game Candy Crush Saga!
🔎
Before posting,
check our ideas guide
HERE
🚨
Looking for help?
Head over to our
Support and FAQ:s
Please enhance the Party Booster a little further.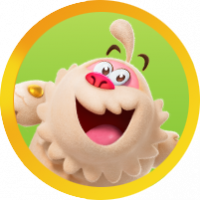 JeffMakesGames
Posts: 75
Level 3
Currently, the Party Baoster spawns a Color Bomb, Wrapped Candy, Striped Candy, and a Jelly Fish when it is activated.
Can you please make it also add a Coconut Wheel and activate that too? (Maybe even a UFO! but the other 5 are okay too.)
One further idea to maybe think about is.... what if the Party Booster added all of these and didn't activate any of them? Let the player choose how to use the newly added power-ups.
Because if a Color Bomb and a Wrapped Candy spawned next to one another, well, that's a pretty tasty combo waiting to be done right there for a move.
This discussion has been closed.