🌟 CCSS New event!
Help Kimmy build her new Booster!
⚡️
HERE
New Feature: Kimmy's Arcade!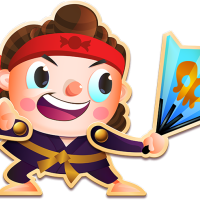 Xarly
Posts: 2,466
Community Manager
Hi everyone!
Some of you might have already seen this new feature on the top left side of your screen. If you haven't yet, don't worry! If all goes as planned, it's only a matter of time until you can also enjoy it.
Without further ado, it's time to introduce Kimmy's New Arcade!
How can I access the event?
On the top left side of your map you will see that icon. Tap on it and you'll be introduced to Kimmy's Arcade!
How does it work?
If you need to find out more, just tap on the "i" icon to learn how to play.
As you can see above, it's simple! You have to use a ticket to play and with every level you will get a reward. You can always cash out the rewards you have won (as seen on the left image below) but if you lose a level you will lose 
all 
the rewards that you have collected so far. Think twice before a new level but, don't worry! If you do lose and wish to keep on playing, you can do so as seen below!
How do I play a level?
Once inside the arcade, you have to select one of the boosters below and the level will play itself! The goal? To spread the jam. Be smart and pick the right booster in order to pass the level, get the reward and head on to the next one (or cash in if you want to play it safe)!
How often can I play?
If you're already one of the lucky ones that have it, you can play as much as you want! There are free tickets available so check your game to make sure you make the most out of it. You can also play it anytime with spending a few gold bars!
Please
let us know your feedback and thoughts below
! And, as mentioned, if you don't have it, stay patient, we will keep improving the feature and getting your feedback and, as it improves, more and more of you will be able to enjoy it!
🍭 Play 
Candy Crush Saga
      🥤Play 
Candy Crush Soda Saga
         👭Play 
Candy Crush Friends Saga
🍮Play 
Candy Crush Jelly Saga
     🍏 Play 
Farm Heroes Saga