☀️ 🕶 Join the Soda Summer Games and win Gold Bars and Badges
HERE
💔 Help us make Soda even better, tell us which feature you dislike the most
HERE
🏳️‍🌈 Pride Season - Kimmy is going to Rainbow Reefs!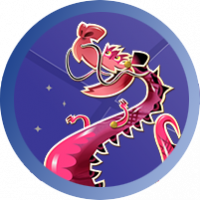 FluffyDinosaur
Posts: 631
Community Manager
Hi everyone! 👋
Kimmy receives an invitation to join a Pride celebration in Rainbow Reefs! As she helps to put a lovely event together, she is surprised by the reveal of their host… can you guess who it is?
While we celebrate Pride in the community this June - feel free to check out these articles to learn more about different Pride-related topics 👇
🏳️‍🌈 How does it work?
Kimmy has received a mysterious invitation to go to the Rainbow Reefs and host a Pride celebration. Together with her, you need to prepare for a proper celebration and find out who the mysterious host is!
Your task to help Kimmy is to complete different quests that will reward you with Soda Caps (points) that will fill up your events progression bar. You can do more than one quest at a time - so get ready for some sweet rewards! You will also have to claim the Rainbow Token - which Kimmy will need to prepare the Rainbow Reef for the celebration.
🏳️‍🌈 Tip:
You can skip quests that you can't complete. 
Complete the quests only in your Soda Levels 
But wait, there's more; you'll also be able to compete in the June Tournament! Match 5 wrapped candies to qualify. Reach the finals by winning against other players. The top player will win 50 gold bars.
June Tournament schedule
Qualifiers: June 9 - 13. Match 5 wrapped candies to qualify.
Round 1: June 16-20. The top 3 players progress to the next round.
Round 2: June 23-27. The top 3 players go to the next round.
Finals: June 30 - July 4. The leading player wins 50 gold bars!
🏳️‍🌈 What can I win?
You can win superb rewards such as Gold Bars, Unlimited Lives, Boosters, and even parts of the Super Sonic Lolly! If you choose to purchase the Deluxe Pass, you receive even more rewards.
🏳️‍🌈 Tip:
The Regular Rewards are free to claim once you unlock them by playing the quests. 
For Deluxe rewards, you can purchase the Pride Season Deluxe Pass.
👉 Remember! You can only claim the prizes of the quests you have already completed!
🏳️‍🌈 When will I see it?
The June Season in Candy Crush Soda Saga will be available from June 1.
🏳️‍🌈 Who can see it? 
Players above level 37 will have the event active. 
🏳️‍🌈 The event is active, but you don't see it?
It's occasionally possible that you'll know someone who might have the event visible in their game when it's not available to you. Do not worry! It's not faulty - it's just that with so many players, we sometimes have to spread the fun out a bit.
We try to keep our events balanced, manageable and visible to as many players as possible, so everyone gets to try new things. The chances are you'll have another event when your friend doesn't, so rest assured we'll always try to make sure you don't miss out on the fun! Keep an eye on your notifications, pop-ups, and map buttons to know when you have new content in your game.
And since you are here, we would like to ask you… 
👉 What do you think about Rainbow Reef as a location?
👉 How do you like the art and the visuals of this season?
👉 What do you think about the quests and the rewards?
👉 Did you participate in the June Tournament, and if so how did you like it?
👉 Is there something you love, especially about it? Or something you don't like at all?
Comment your thoughts down below, we'd love to hear them!
👨‍👩‍👦‍👦 New to the Community? Register HERE in just 2 seconds.