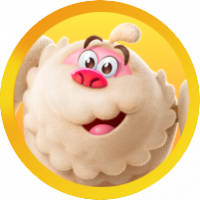 mint_aero

Level 3
About
Username

mint_aero

Joined

Visits

1,207

Last Active

Roles

Member

Points

156

Posts

206

Badges

23
Comments
Coconut wheel should never be given as a award in a contest like this, almost all players have enough of these!

Hi @Kathy_Johnson-2 Seems you were the lucky few to still have had the original Build a Bot. Build a Bot changed many months ago, for most players, to the concept of the candy necklace; losing all boosters gained if a level failed, and only built …

Hi @WonderlandCentury789 and @Crazy Cat Lad I think these are fine, and they were fine before the change. Only other issue I have seen noted is the colour is confusing to some, thinking its a candy. The real problem and change should have been to …

Thanks for your comment and optimism. Unfortunately changes like this do not help me and are not appreciated by me. Adding more flashing to the game is off putting and strains my eyes. So I'm afraid it isn't going to be ok as more and more stuff li…

Oh I love pasta and I've actually made it today. Today is chickpea and spinach, I know, weird combo but it tastes great with tomato, garlic and herbs. This is the pic from when I first tried it, with cheese sauce added. I liked how the chick pea sa…

Congratulations Aijaz bhai I loved the story about your competition with your wife. ❤

Hey all, great post Dani @Chicken_Slayer you reminded me, my daughter when a little younger, whilst watching a parade was given a rose from someone participating in it. :) I was driving down a road yesterday, and let some friends cross the road, the…

@crippso69 I was curious why you described it as cringy so I have taken a quick look. How strange of a set up! Some finalists looked uncomfortable! If they'd mention it would be run this way I wonder how many would have taken part. If anyone wants …

Thank you to @frenioz00 for linking and mentioning ZebraStrong in your post. I just read that thread and really it amazes me how much love and support members offered, and how wonderful this community really is. I've read statements like this durin…

Hi I'm not sure where this joke was made, but the fact you are apologising shows your intention wasn't to hurt anyone. Congrats and well done for quitting. And welcome to the community, hope you enjoy it around here.

Dropped from the featured posts, before the final. Says it all..

Hey congrats! Why are you answering on the 27th October? Do you think you will be around for another 2 years or more? Why is your profile pic not animated? What inspires you, and what are your future goals?

Hello Maybe it could be done in the style of CCS Rank, where on your profile picture it says the number of months or years. For now, can the signature banner be edited to state when you started. I think it is important and can be helpful as it shows…

Looks small to me for the desired purpose. Also another flashy change - where the boosters are placed. 😒

What a flop, so disappointing to read 😟 If the crowned winner becomes aware of this mess, guessing its not gonna feel all that special anymore, seeing as its not been a fair tournament.

@Albert_Heinrich This is exactly what I have been thinking! The Coconut Wheel is given so often, and hardly able to use it, so therefore just accumulates. It really is so annoying. Selecting it, in game would be so useful. Why don't you copy your p…

@Pounawea Do these stars actually play Candy Crush? Or was it just simply a promotional deal? It would have been interesting to see their progress in the game. And if they play where they ended up in this event.

Good luck to everyone that's made it to the final stage. 😎👍 @Trish24 did you make it? @Von_3 I agree with you. Running 1 day plus the timing has excluded many.

@Pounawea Thank you for looking into it.