🥕🍏🍓💧 Harvest your level 4000 badge!
HERE!
💪📱 Collect your Farm Harvest Master Badge!
HERE!
🧐 Guess the score and get a chance to win Gold Bars!
HERE!
🌈 Collect your Rainbow Love Badge❤️
HERE!
🌟Win boosters 🌟Help choo choo! ENDED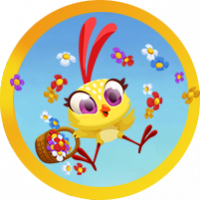 Lady_Choo
Posts: 14,368
Farm Moderator
🍓 Want to participate? Sign up HERE in 2 seconds! 🍓
Good morning Farmers! Its Friday again....yay for the weekend!
Want to try your hand at winning some boosters? Its a real easy one for you this time.
Amelia is helping Choo Choo with her home schooling. She needs to learn to count carefully as she gets too excited and loses track. So Amelia has given her a dish of beans to help.
How many beans are in the picture?
How do I participate?
All you need to do is write the amount of beans to qualify and that's it.
Make sure you use the spoiler feature though (you can find out how to use the spoiler feature here)
What will I win?
Slightly different to usual. Three winners will win 3 Hunter boosters (colour collector) . Names will be drawn from correct entries, or if nobody guesses the correct number, 3 closest entries. They cannot be transferred or swapped for another game format so this game only.
How long do I have?
You have until 26th March 13:00 GMT.
So get counting!
Terms and Conditions here


☕ Keep safe...Keep social distancing. I don't like people anyway  😉☕
🐥Life's not about counting chickens. Unless they all escape their coop of course! 🐤
New contest! 🍏 Win a badge and a chance to win gold! 🍏

Farm heroes addict collecting cropsies since 2013. 
Leave a Comment