New 'sidebar' in Farm Heroes Saga in Facebook/browser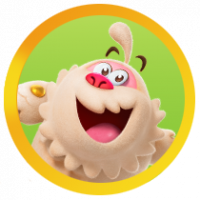 Is this something new, or did I just mess up?? On my PC, I play FHS in Facebook on my Chrome browser. I am missing many, many power-ups and yesterday I thought I would give FireFox a shot and see if they would show up there. I had to sign in to FB in FF and when I selected FHS, I got a different looking screen. Yes, the main game was there, but there was also a black sidebar with King game icons in it. I have never seen it before and don't particularly want it as it is distracting. I figured out how to close it, but there remains a black bar on top of my game with an X for exit. When I exit, it goes to the King Games site. I don't want to go there. I realize that I can just hit the FB home button, but I want it to behave like it did two days ago. Now that I've closed the sidebar, how do I get rid of the black bar across the top and that danged X?
Anyone have any ideas?? Help much appreciated!
Comments