🐕️
Puppy Challenge!
50 Gold Bars to win
HERE!
🐈️
New vs Old!
Give us feedback on the new design on the pets
HERE!
📱
What's your Pet Rescue game view?
Share your pic and claim a badge
HERE!
🏝️🐈️ Summer Petopia - Build up your own tropical islands in Pet Rescue Saga!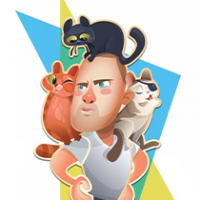 Crazy Cat Lad
Posts: 14,054
Community Manager
Summer is here and it's time to play Summer Petopia! 
Our petacular city builder event in Pet Rescue Saga is back.
This time in an updated summer edition. With beaches, palm trees, tropical flowers on warm and breezy islands!
Petopia will run for 4 weeks starting on Monday 27 June.
Make sure to open the game to not miss all the petacular fun in the tropical heat!
If you haven't played the Petopia event before, don't worry we'll have a short introduction of the feature here. 
Even though you already played the event earlier, Summer Petopia will have some new surprises for you as well!
Your city will grow simply by playing and completing your regular levels in the game.
All rescued pets from the pet levels will move into your Petopia city.
For every level completed you will also be rewarded with a Petopia card. You will have three cards to choose from every time to build up your city with houses and buildings.  
Simply choose which of them you prefer to add to your tropical summer islands in Petopia. 
After choosing which of the options you prefer, place the building on an existing island or place it into the water. 
When adding a new building out in the water, the building will then create a new island! You can later connect your islands by placing more buildings between them.
There are different types of cards in Summer Petopia:
-New building - Build a new house, tree, flowers or a monument in your city.
-Accessories - Give a pet in your Petopia a nice hat or a summery garment. 
-Jobs - Assign one of the pets a job or mission in the city.
-Dig a treasure chest - Pick one of the hidden treasures around on the islands and claim the Boosters the chest is containing. 
In Summer Petopia you will be able to pick up the pets and then drop them elsewhere. Even into the sea!
Tap and hold the pet, then drag them where you want to place them. This way you can move pets between your islands and also place them in all special buildings.
If you drop a pet into the water, a life saver will be thrown out and the pet will swim back to the nearest island.
If any of the pets are thinking or in the mood for an activity. Thinking of a hamburger, yoga mat etc. Then drag the pet to the special building of that activity. The Pet will then reward you with extra love points, Pet Coins or some Boosters.
Make sure that there is some free space or room first in the building!
The love points meter above will progress by completing levels.
When the meter is full, you will be rewarded with a Special Building or a treasure chest.
The special buildings are bigger buildings with activities for your pets. Everything from restaurants, yoga park, soda bar to a theater or a carousel. 
For every full love points meter, your city will also rank up one level. The city level is displayed to the left on the meter. 
If you manage to get at least to Level 20 in your city, claim your exclusive Summer Petopia badge HERE.
You can navigate back home and also edit you city with the map buttons.
If you accidentally get lost on your map or get way far out to the sea you can quickly get back to the station by tapping the button up to the right.
The tool button in the right lower corner is to move or remove a building on the islands. 
The Summer Petopia quests can be found under the Events tab.
The quests are grouped in batches with three quests in each.
Every completed quest will give you a reward, but when all three quests in the same batch are completed, you can open the chest and claim an even bigger reward.
More Summer Petopia in Community!
Claim your Summer Petopia badge HERE!
Win Gold Bars with your Petopia skills HERE!
Which special building and activity is your favourite in Summer Petopia? Vote on your favourite HERE!
Summer Petopia is only available on mobile devices.
If you are playing on a desktop, you can continue playing on a mobile device by connecting the game to your Facebook account and access Summer Petopia. 
Please note that some older devices and low end devices may not be able to run some events like Petopia. Connection issues on the device may also prevent you from seeing the feature.  
You will also need the latest version of the app installed on your device to be able to receive the event in your game. 
😺 ​New to the Community? Register HERE in just 2 seconds.